"Deutsch durch Übung" ("German through practical application") is very helpful if you already have absolved a German language course or are learning German in school or at an university since the numerous exercises help you to review and solidify your skills. All tenses and conjugations are considered: present tense, past tense, future tense, passive, conjunctive, participle …


The grammar section constitutes a special unit that presents and explains verb conjugation and tenses clearly and simply.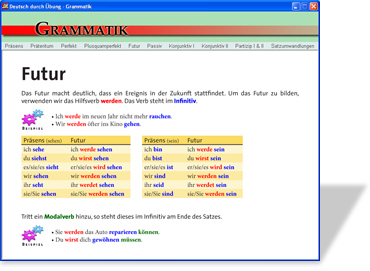 The program assigns points, i.e. it shows in percent the learning progress achieved after completing individual exercises. This progress can be viewed in the "Statistics" section. Each tense has its own statistics display. It is also possible to review the statistics for a specific tense section.